Yoga Nidra
with Karmen Lehman
Friday, September 30th, 6 -7 pm

Yoga Nidra is a powerful, ancient form of guided meditation that induces relaxation & healing of the body, mind & spirit. It rests and renews & offers the opportunity to release accumulated tension. Yoga Nidra provides benefit to those suffering from: Chronic Pain, Fibromyalgia, Depression, Chronic Fatigue, Post Traumatic Stress, Insomnia, Anxiety, Restlessness, Digestive and stress-related disorders.
Most of us don't get adequate rest, are over-stimulated & suffer from accumulated stress. The effects of this may be evident in difficulty concentrating, muscle aches/pains & feeling worn down. Over time, this can create illness & disease. Regular meditation can help restore your vital life energy, prevent disease, improve your mood and create more ease & peace of mind in daily life.
Treat yourself to this DIVINE SLEEP.
A session is equivalent to 3 hrs of sleep.
Plan to have pillows & blankets and dress in comfortable clothing.
(This is a Guided Meditation, not an active Yoga class)
Investment: $20
Stress Management & Resilience Training (SMART) Workshop
Connie Vaughn, Resilience Trainer
Will present a 3 Week Workshop on
Saturdays, Oct. 22 & 29th from 11am-12pm
& Nov. 5th from 11am-12:30pm
Fee: $60
SMART is a program developed by Dr. Amit Sood, Professor of Medicine (Retired), Mayo Clinic College of Medicine, Rochester, Minnesota and chair of the Mayo Mind Body Initiative. Known as the "Happiness Doctor", he is the founder and executive director of the Global Center for Resiliency and Wellbeing in Rochester. SMART is an innovative, fun, engaging and simple approach to help lower stress and enhance individual resilience.
The program shares with you a set of transformative principles that can help enhance your relationships, support you through behavior change, improve work performance, enhance health, resilience and wellbeing, reverse burnout, and find greater happiness.
SMART is a four-module program and has been tested and proven effective in over 30 clinical trials. Each of the four modules of SMART offers science, stories, and skills that will help you understand how the brain depletes resilience, generates unneeded stress and fragments attention.
Gratitude; Mindful Presence; Kindness; and a Resilient Mindset are the four modules that will be presented. Each module is a mix of two key ingredients—Insights and Practices. These key ingredients of SMART support each other. The insights help prepare you for the practices while the practices help you develop deeper insights. Modules 3 & 4 will be presented in the 3rd week of the training, therefore, class will meet for 30 minutes longer.
 Yoga with Acupuncture Workshop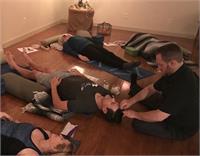 Yoga Instructor: Marie Coakley, MS, ERYT 
Accupuncturist: David Fife, L. Ac Diplomate in Acupuncture
Lake Country Acupuncture in Delafield
 Friday, Nov. 4th from 6-8 pm
Fee: $35.00
Refresh-Renew-Restore!
Lake Country Acupuncture and Yoga 4 All are joining forces to deliver a wonderful new twist to your yoga practice experience. This is a 90 minute Restorative Yoga class with a mini Acupuncture session during Savasana (final rest pose). Always wanted to try yoga or acupuncture? Come join us and give both a try. Experience the deep relaxation, pain relief and many other benefits these complimentary practices have to offer.
No previous yoga experience necessary. We will provide you with a yoga mat and all the comfortable props you will require for a spa like experience. Bring a friend and share the gift of health and wellness. Meet with David prior to the start of class at 6:00 pm to discuss any current issues you would like him to focus on. Yoga class will run from 6:30 pm – 7:30 pm and Acupuncture from about 7:30 – 8:00 pm.